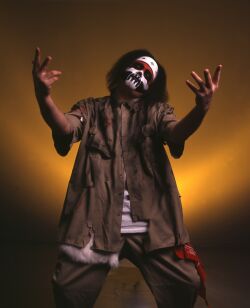 Nicknames: Anybody Killa, Jaymo, Native Funk, J-Mo, Jamie
NAME: James Lowery
ALIAS: AnyBody Killa
D.O.B: 6/26/1973
RACE/SEX: Native American/Caucasian Male
HEIGHT: 6'2
THE ARTIST KNOWN AS ANYBODY KILLA HAS MUCH TALENT. WITH SOME OF THE TIGHTEST RAPS HE HAS QUICKLY BECOME PART OF THE JUGGALO FAMILY. WITH HIS SLUR AND GANGSTA ADDITUDE HIM AND BLAZE ARE ONE FIERCE COMBO. ONCE KNOWN ONLY AS NATIVE FUNK, WE ARE GLAD THAT HE'S NOW PART OF THE HATCHET FAMILY...