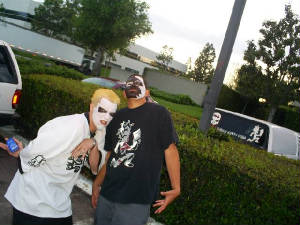 LOOK ITS A BIRD, ITS A PLAIN, NO ITS THAT DEAD KILLA CLOWN KARNI! WUT UP HOMIES ITS BEEN A LONG ASS TIME. BUT IM FLYEN IN LIKE A MAD STORM. TO BRING YOU A UPDATE! FIRST I HAVE TO TELL YOU SINCE MY LAST UPDATE I WASNT WORKING BUT I GOT A JOB SELLING CARS FOR A LIVING THEN FUCKED THAT UP SO NOW MY ASS IS WORKING FOR pizza hut AND I FUCKING HATE IT. FUCK IT I SOUND LIKE A BITCH DOING NOTHING BUT BITCHING SO IM JUST GOING TO SHUT THE FUCK UP. MY ASS HAS ALOT OF SHIT TO PUT ON HERE BUT FOR NOW ALL YOU DOWN ASS JUGGALOOOOOS CAN INJOY THIS SICK ASS PIC I HAVE PUT UP. BY THE WAY THAT MASK WAS ALMOST $200 AFTER SHIPPING BUT I GOT IT FOR THE NEXT CONCERT SO WATCH FOR A MUTHA FAKOO. YEA AND IF EVERYTHING GOES RIGHT NEXT YEAR I WILL BE IN DENVER CO. MY ASS RIGHT NOW IS THINKING ABOUT MOVING OUT THERE. OH YEA FOR THE HOMIES HIT ME UP FOR MORE INFO. WELL ANY WAY MY DEAD ASS IS OUT.
MUCH MUTHA FUCKEN FAYGO SOAKED KLOWN LUV
PEACE
KARNI MUTHA FUCKEN KILLA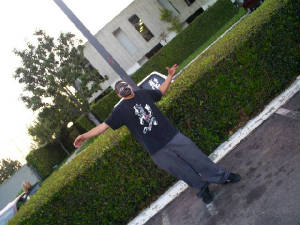 OH SHIT THE KARNI IS MAKING A UPDATE! I FINALLY CRAWLED MY DEAD ASS OUT OF THE FUCKING GRAVE I WAS IN JUST TO BRING YOU SOOM NEW NEWS. WELL WERE TO START? AS TOLD BY KOLEOSIS I AM SOON TO HAVE MY VERY OWN BABY LO OR LETTE. YES IT IS TRUE AND YOU HEARD FROM THE KARNI HIMSELF. ALSO MY ASS WAS LEAVING PLANET HELL BUT SHIT HAPPENED AND I GOT STUCK. BUT ITS ALL GOOD I REALLY DIDNT WANT TO LEAVE THE CREW. NOW TO TELL YOU ABOUT THE DARKLOTUS TOUR. IT WAS THE SHIT. WE WERE RIGHT UP AGINST THE STAGE. MADROX HANDED A WATER BOTTEL DOWN TO ME AND SOME OF THE JUGGALOS. FUCKEN WELL I GOT TO GO SOME SHIT IS GOING DOWN I WILL SEE ALL YOU MUTHAS IN SHANGRI LA!
MUCH MUTHA FUCKEN FAYGO SOAKED KLOWN LOVE
PEACE----------KARNI KILLA
WHAT UP ALL YOU SICK ASS LUGGALOS! THIS IS THAT BUMB ASS MUTHA FUCKER KARNI KILLA. YALL HAVVENT HEARD FROM ME IN A LONG ASS TIME. SOME HOW SOME WAY I ENDED UP SIX FEET UNDER NOW IM BACK FROM THE GRAVE TO BRING YOU A NEW FRESHNESS. EVAN WITH MY LOSS OF MY COMPUTER AND MOVEN I STILL GOT MY CDS TO FALL ON. WILL I WAS GOIN I WOULD TAKE MY CD PLAYER TO WORK WITH ME AND BUMP THE WICKED SHIT ALL DAY. LIKE THE SONG SAYS I AM DOWN WITH THE CLOWN TILL DEAD IN THE GROUND. MY WICKED ASS IS TRYING TO SAVE MONEY SO I CAN MAKE IT TO THE GATHERING